Icon Technology & Process Consulting Limited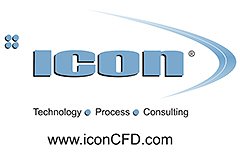 ---
Icon Technology & Process Consulting Limited
ICON was established as a private limited company in May 1992. Although originally a Computational Fluid Dynamics (CFD) services provider, subsequent demand for complimentary expertise resulted in new business units developing. These included a broad spectrum of Computer Aided Engineering (CAE) services as well as IT/web/multimedia capabilities to manage and present data. This evolution of the company continues today with recent growth in the fields of automatic optimisation and open source technology, with which we continue to revolutionise industrial processes.
The company was originally founded upon computational and experimental engineering expertise gained at Imperial College, London. During the eighties and nineties, the intense research and development efforts into CFD methods resulted in two of today's major codes. The expertise accumulated during that period was increasingly demanded by industry and as a result ICON was setup to supply CFD services to OEM's, SME's and research organisations worldwide.
ICON's strategy is as pertinent today as it was in 1992: To provide high-quality independent advice and expertise in process, technology and services.
http://www.iconcfd.com