Norvento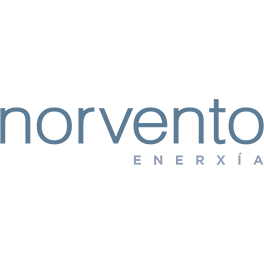 ---
NORVENTO LUGO
Edif. CIne – Rúa Ramón Mª Aller Ulloa 23
Pol. As Gándaras
27003 Lugo,
Spain
T: +34 982 227889
E:
W: www.norvento.com
Norvento Enerxía is a group of companies specialized in advanced energy engineering. It implements renewable generation, storage and electrical managament systems for clients worldwide. Moreover, it is devoted to the promotion, construction and operation of renewable energy power plants.
Norvento is owned by the Fernández Castro family and has been active in the energy sector since 1981 when Pablo Fernández Castro founded an engineering and electrical service consultancy, specifically in the areas of renewable energy generation and distribution. It was the origin of the current Norvento. In the late 1980s, the company began working as a renewable energy developer and entered the hydropower sector, developing mini-hydro plants in the region of Galicia, Spain, as for example Barreiro Hydro Plant. In the beginning of the 90s, the first met masts to assess wind resource were installed. Later that decade the first wind farms were developed: Coruxeiras Wind Farm, Fiouco Wind Farm and Montouto Wind Farm.
In the years 2000, Norvento started to develop biomass and solar projects. Some examples of these projects are Bioallarluz Biomass Plant or Fosso dell'Oro PV Plant. The Group is strategically committed to research, technological development and innovation so it allocates significant resources to numerous R&D renewable energy projects such as to the deployment of wave energy devices, different bioenergy studies, research of geothermal resource or design and development of medium-scale wind turbines. Since 2008, the Group has embarked upon an ambitious strategic international expansion plan and now is present in countries such as the USA, Brazil, Chile, Poland, Italy and the UK.
In 2009, Norvento expanded its fields of action and became a technologist of renewable energy distributed generation systems by developing, manufacturing and marketing our nED100 wind turbine. In 2015, it made the jump to off-grid systems and microgrids thanks to the OG+ project. Nowadays, it develops and markets technology in this field.